KYMCO MXU 700I EX
2016-06-01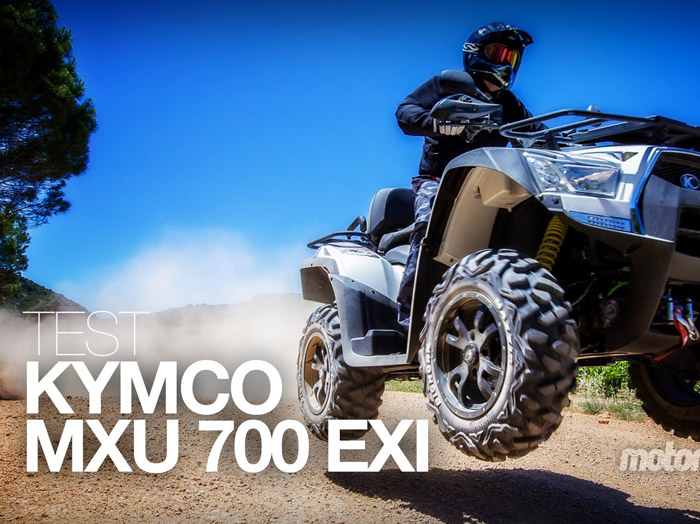 After several years KYMCO ATV returned to their offer of Montenegrin representative of the brand. Since we last wrote about KYMCO ATV vehicles a ton of things have changed. Before the financial crisis in 2009 and 2010 KYMCO 4-wheelers in Montenegro were sold with decent success. Models MXU 50, 150 and 250 were the best selling because of its usability on all terrains and solid maneuverability. Its design KYMCO had not stood out from the competition, but the quality was their main weapon. However, the undisputed quality comes at higher price, so the KYMCO in classes 150 and 250 cc was significantly more expensive than the competition, which is in crisis for years and caused their withdrawal from the offer of our representatives.
Now, at a time when motorcycle and ATV market in Montenegro is recovering and increased sales in this segment, KYMCO comes in a new light and with new trumps. Models such as the MXU 50, 150 and 250 remain, and continue to be offered, and the prices are, as it applies to the entire KYMCO range, at least adequate to what vehicles provide. However, a new era asks for more in terms of design, but will indestructible MXU 250 with a price of 3990 euro a little harder to find time to the customer, because the design was the same as the 2007 when it appeared with us. Of course, KYMCO would not be where it is if it did not mean to those demanding clients who look to lower the price in relation to what they want. Thus, new models MXU 550i and 700i captures exceptionally good sales in Western Europe and the US, and show that their entry into the highest position ATV fully managed.
Models MXU 550 and 700 not only enter the higher rank after displacement. The design of this model shows that it is a high-end vehicle that is aimed at the most demanding clientele. The design is inspired by the car industry, specifically KYMCO strategic partner BMW. The target market of this vehicle is the United States, where competition in this segment is extremely strong, especially in high class. That is why this model is full of useful details that make it easier and nicer to use, with quality technical solutions that need to be understood for this class. Large alloy wheels, LED indicators, a USB charger, cupholders, and a hidden compartment in the bumper are certainly some of those details.
The new engines of 550 and 700 cubic meters have been done in a system that has begun the launch of the first generation 5 KYMCO aggregates and fully considered as one of the best in its class. They are lighter, more durable and significantly thriftier than older engines, a new design significantly improves the maneuverability of the vehicle itself. KYMCO largest ATV MXU 700i, here we present the version of the EX, which is best equipped their serial version, and with the exception of some limited series, is currently the best offers from hundreds KYMCO ATV vehicles.
The aggregate of this model has a capacity of 695 cubic meters and draws 45 horsepower. Maximum speed is around 100 km / h, but this information is not so important for those who want to enjoy the off-road. What is important is his power at lower engine speeds and excellent acceleration. Tests carried out at the United States special attention to the quality of its transmission and gearbox, which provides excellent driving feel smooth without holes in the acceleration. KYMCO automatic transmission offers the option to drive in higher and lower revs which allows the driver to adjust the speed and torque to the terrain or driving style that suits him. From serious producers, who aim to find a shoulder to shoulder with the largest players in this segment, is not expected to be less, but this is not the evening challenge in constructing a successful ATV large displacement. The very structure of the vehicle, hanging and weight distribution vehicles, off-road driving, especially by demanding terrain will show the true picture of a vehicle. Although KYMCO equipped its MXU 700i EX all the accessories for off-road driving, some data suggest that in its construction looks for balance in the application - not to be extremely off-road vehicle for entertainment (as KYMCO MAXXER 450i) nor purely a working vehicle (as UXV series), but to create a vehicle that can perform all the tasks. So, for offroad driving most important things are there: the possibility of locking differentials, drive to all four wheels (which can be turned on and while driving) and winch. On the Offroad tests at lower speeds and most challenging terrain, especially the rocks, MXU 700 has proven to be truly exceptional. However, due to the frame construction and the motor position returned back (which facilitated the front end), some results show that for the most demanding off-road sections, especially at higher speeds, this model takes a different suspension and weight distribution.
If you decide to use this model as a working vehicle, the possibility of connecting trailer coupling or snowblower, will certainly give you great results, while the lack of cargo space might bother you. Although the roll-bar can be set bags and suitcases luggage space is limited. The inability to connect agricultural machinery and tools does not make MXU good working machine.
No vehicle is suitable for all purposes. So MXU 700i EX remains an excellent vehicle for entertainment on all terrains, and quite practical vehicle for everyday and work use. The price of this model in 2016 has been lowered from 9,600 euros to 8,990 euros, and we expect it to remain so.